Happy New Year everyone!
I'm finally settled down but still not used to the high temperatures back in Singapore with noons that go as high as 35 degrees celsius and 100% humidity. :( versus -20 degrees celsius (sometimes colder) in Moscow where I just returned from. Needless to say I missed being Moscow where I enjoy the cold and the snow and just being there! Here are some photos of my holiday!
I couldn't really wear shorts and tights as it was really too cold for me, most days I had to wear 2 pairs of tights under my jeans along with winter shoes but I would still feel cold however it was still bearable. The only time I did tights with shorts was on my way to the airport flying back to Singapore, even so I had 2 pairs on and once I left the car to bring out my baggage I immediately felt the chill and hurried into the airport. That was how cold it was! To be honest I'm really amazed seeing how some women I noticed wore sheer pantyhose in this kind of winter! Well I mean at least they had on coats and knee length boots and showed just their thighs in nylons. I really can't wrap my head around that! However Russian women are truly beautiful! I yearn to return again soon perhaps 2018 World Cup in Russia. :)
Since day 1 I had been looking for Russian made hosiery but I ended up not finding what I wanted. I was looking specifically for Orodoro Microfibra model tights but I couldn't find any! Not even in stores and online! They were simply out of stock! And now that I'm back in Singapore, the online stores don't ship overseas either!
However I didn't leave empty-handed, got myself some Italian made OMSA and Elaslim tights which I will be doing reviews starting in February :)
If you looking to get Oroblu at a discounted price now it's the time!
UK Tights
is having a special 15% off their
Oroblu
collection!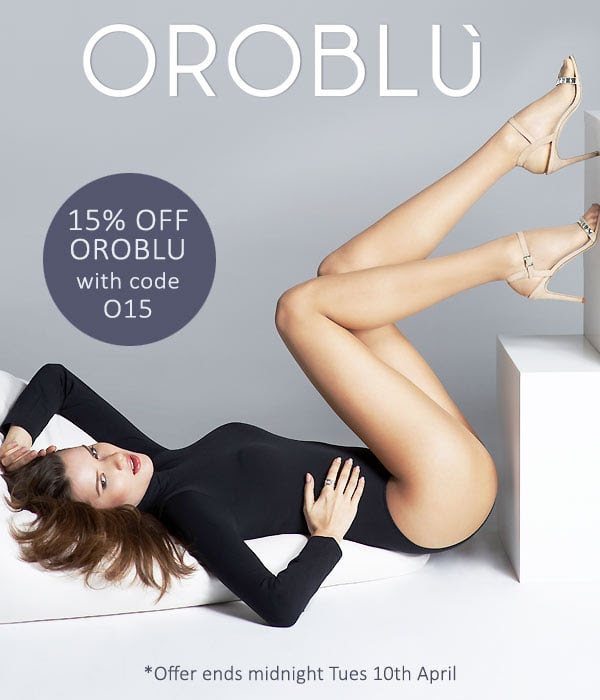 Do hurry because it ends on the 18th Jan!
That's all I have for you this week!
Thanks for reading!
Andreas