Hi Creative and Fashionable people!
Welcome to Weekly Vibe #189! Halloween is upon us soon! Though I'm not really preparing for that... unless I do get invited to some events I will be preparing something cool.. and likely Star Wars related.. Hahaha! A shoutout to
Hosiery For Men
, thanks for the feature on your blog on our new video channel! You can read it
here
!
Nowadays we are having consumers that decided to take hosiery designs to their own hands and went indie and got themselves unique hosiery like Not so Tight tights, LM Glow tights and now enter
Hipstik Tights
!
How it all started? Here is what it was written in the About section.
"It all started with a pair of scissors. No, seriously! One day after work, while changing into PJs, my husband and co-founder, Jason, was baffled by the scissor cut down the front of my pantyhose. He said, "What happened there?" I said, "THEY'RE SO UNCOMFORTABLE, so I cut them in the bathroom at the office!" We had a good laugh and that pair ended up in the trash. And then I began the hunt for a comfortable pair. After years of trying on dozens of styles and brands, I had given up. The largest size was too small – the tug and pull (in front of your boss-oops!). The waist always too high – why is control top the only style available! What if I don't want a control top at 10 a.m. on a Tuesday!

I knew there had to be better. That's when I had the "light-bulb" moment. With our backgrounds in product development and marketing, we knew we could make this happen. I could bring women the tights they actually want to wear. Then, the real work started. Asking friends about their own experiences wearing hosiery. Finding a manufacturing partner. Samples. Conversations. Samples. Testing. It became a crusade for comfort in a product category that has never been comfortable. And here we are – Hipstiks are everything women have ever wanted in a pair. I have found my happy. And I truly believe Hipstik tights are so comfortable, they will make your day happier, too."
There is also an introduction video on YouTube!
"They say tights make the outfit but Hipstik Tights will make your day happy." - Laura McGuire

I totally dig at that quote there! I believe the problem of restrictive control top/waistband, rolling and saggy tights happen to everyone who wears tights regardless of any gender. The tights are sized differently not according to your usual S,M,L but according to anatomy because everyone is sized differently and hence it will fit accordingly with minimal chances of rolling waistbands and the silicone stick strip will make sure it the waistband would stick to your tummy preventing rolling on the waist area.

Size chart is as follows:

This is one really unique way of sizing! To be honest the Hipstik Tights just look really cool!
Currently there are 3 colours on sale;
Magnetic Black
,
Heavenly Navy
, and
Sumptuous Brown
. They cost US$27 a pair.
You can check out their official
website
to make your orders and find out more!
Jonathan Aston
's Autumn/Winter 2016 collection is now in stores on sale at
UK Tights
!
Recommended style for the men I would take the Jonathan Aston Rewind Tights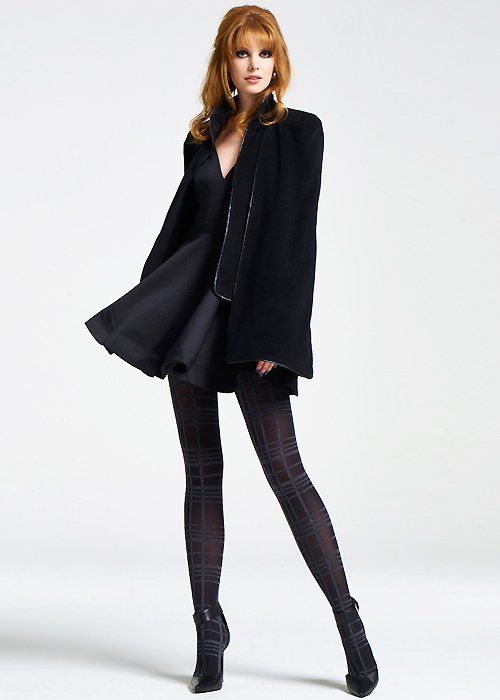 £11.99 a pair that includes Large size for the men.
Halloween is just weeks away, get ahead of everyone and you can start shopping at UK Tights for
Halloween Legwear
!
Well that's all I have for you this week! Have a blessed coming week!

Thanks for reading!
Andreas