Hi Creative and Fashionable people!

Here is my review on A866 Thermofabric Full Support Tights with Fly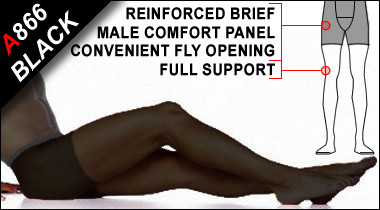 I ordered this pair for myself and the A839 for my mum. At first look, I was kinda afraid that the tights would actually look like what it's on the picture shown above.. but thank God it was wrong! Well the fact is because I'm not the biggest fan of sheer hose.. but it is truly very opaque and what it shows on the picture is not at all accurate.. not as sheer as it is in real life! I ordered this pair specifically for running, but I suppose I would most likely be wearing them out anyways. I had a leggings kind of running tights but it wasn't sporting the compression I needed. Anyways as I pulled them up, it was kinda hard at first to put them on.. but it was kinda smooth as I slided them up my legs and also on the good side it was very stretchy, another good thing I realised was that these had the male fly, the fly seemed to have a lower denier content than throughout the parts of the hose(well I supposed no men wants it too warm down there either) I noticed that these lack a gusset.. well I'm pretty fine with gusset or sans gusset. It was very comfy when I got them on, adjustment was fine, I seem to prefer light support like the A857 than full support, due to the fact that it is easier to put them on.
The opacity coverage was pretty good, you would start to see stretch on the heels and the upper thighs, looking like 60 denier or so. These are more like 100 denier tights. I wore these out for a long jog and gosh did I get looks and some giggles. But meh I had the same looks when I was wearing my legging kind of running tights, besides.. I care for my legs and my fitness. Couldn't care what others think. I'm proud of what I wear!
Sweater: ADIDAS Sports Vest: (Military Surplus) Shades: UNIQLO Running Shorts: (Military Surplus) Tights: ACTIVSKIN Shoes: NEW BALANCE(Military Surplus)
Model & Photographer: A. LUCIUS. KUNSTWERKE
Price:
US$19.99
Material content:
80% nylon microfiber and 20% Lycra® spandex. No gusset.

Sizes offered: M to XL

Colours: Black

Pros: Stretchy, Smooth, Good opacity coverage. Male panel with Fly opening & Economical, Good compression catered for active men.
Cons: Not the easiest thing to put on.
Top down view
http://www.glieberman.com/a866-thermofabric-full-support-tights-with-fly/
Overall I'm pretty pleased with the A866 Full SupportTights. I give it a rating of 4 out of 5 stars.

They also make very good replacement for work socks if you want to consider them for a change. However do be warned that it would most likely be suitable to wear them when the climate is slightly cooler.
Thanks for reading!
Andreas Lucius Loh