Hi Creative and Fashionable people!

Legwear Fashion For Men has successfully completed an interview with a hosiery blogger Jessica of Fantasy Stockings. Enjoy the read!
1) Can you provide the readers at Legwear Fashion For Men with some background information about yourself and your blog fantasystockings.com?
Sure, let me introduce myself. I currently live in Canada, in the beautiful city of Vancouver that is located
on the coast of the Pacific ocean. When I was younger, I did some fashion modeling in Toronto. Those
years past, but my interest in fashion remained.
I never thought I'd be a blogger. I was thinking of starting an online store 2 years ago and registered
a domain name. I decided not to proceed with the idea at the time, but my domain name was already
registered. That's how I decided to put up some information there about my love for hosiery and little by
little it turned into a hosiery blog.
2) There are many women out there that don't really like hosiery too much, what is it that makes
you love hosiery?
I grew up with it. Since a very young age my mom would tell me to wear it with skirts and she would
never get mad if my pantyhose would get ruined. She always had a full bag of spare pairs in different
colours and that's still the case today. To me it was a necessary garment to have, just like socks.
During my teen years I realized that it makes my legs look really nice, so I would always wear it if I would
want to look pretty. A lot of times I would get compliments from both males and females about my look.
When I grew up, professional appearance became a priority. Even if a woman is on a tight budget, she
could add a sleek pair of pantyhose to a simple outfit and look so much more sophisticated in an instant.
It feels nice to wear, makes me look good, and allows me to continue wearing my favourite skirts even in
winter. What would I do without it? I can't possibly imagine giving it up.
3) One could notice that you have a "boys" button in your blog categories and it opens up to
many topics on unisex hosiery and the like, so what do you think about men such as myself who
wear hosiery, and not just for health reasons but for a fashion statement (with shorts & shorter
pants etc.)?
I haven't met too many men who wear it for fashion reasons, but turns out that this trend was already in
some runway shows. There isn't any logical reason out there why tights should be for women only. In
Eastern Europe up to this very day both boys and girls wear cotton pantyhose when they are little. But
when they grow up, men for some reason switch to long johns that usually don't look attractive at all.
4) Would you be in a relationship with a man who wears hosiery as part of his usual clothing
style?
At this point I can only give a hypothetical answer because I passed my dating years a long time ago and
back then I wasn't aware of this trend at all. It probably would depend on how he wears it because I am only
attracted to a professional masculine look
.
My favourite look for men is a properly fitted business suit with a tie and fancy cuff links during the day.
Somehow when a man I know puts on a good business suit, I just can't stop looking because it makes them
look so much better. For casual wear I like to see men in proper fitting dark jeans with a dress shirt or fitted
muscle shirt and stylish business casual shoes. I am not a fan of anything that resembles sportswear.
However, most men who wear pantyhose do it because it is something that turns them on in a private sense.
In this case, I'd be totally cool with that. If he enjoys the feeling of sheer pantyhose close to his body, I'd be
delighted to help him choose the best hosiery out there.
5)
How did you find about the Legwear Fashion For Men blog?
I guess that is where the link exchange really does its magic. I follow Hosiery For Men blog and I check out their suggested links. This is how I found you.
6) Are you able recommend any styles that you think men can adopt with hosiery?
Somehow I really like to look at Scottish men who wear traditional kilts. Whenever I see one, I turn around.
Skin tone pantyhose under a kilt with traditional white knee socks over it not only would look good, but would
make total sense in colder weather. Let's say that if I would marry a traditional Scott, I wouldn't let him go
outdoors without pantyhose unless it's summer.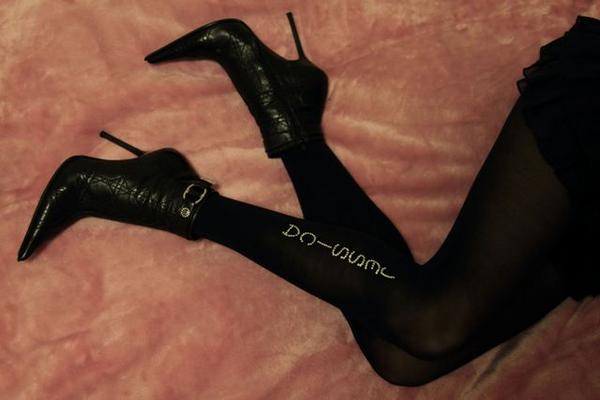 7) Tell us one thing about yourself that you normally wouldn't say?
I am such a chicken when it comes to violence in movies, even though that I realize it's just special
effects... I can't go to a movie theatre unless I am sitting next to someone with broad shoulders that I can
hide behind during a scary scene
.
8) Do you have comments to make about Legwear Fashion For Men?
There are some technical points like navigation and overall presentation of the material, but I'd rather not
take up your reader's time discussing this here.
In general I would like to thank you for your courage to promote a fashion trend that is not common and to
do it in such an open manner. It may sound trivial, but I really admire the fact that you model your outfits
yourself and you don't crop your head out of the picture. It shows the reader that you are confident and
sincere about this.
There is a belief that fashion repeats itself in cycles, so I do not doubt the possibility of men wearing ¾
pants and stockings would again be as common as it was in the regal times.
Thank you Jessica for taking the time to answer these questions, I hope that our readers at
Legwear Fashion For Men Blog will enjoy reading this interview and your blog! We wish you all the best in your blog and your future endeavours and we will keep connected!

Jessica's blog deals on many subjects on hosiery, she has done interviews with CJ from Tights Fashion UK & Finn Magazine, she also featured Activskin's mens hosiery along with Hosiery For Men Blog she blogs on various other subjects such as how can hosiery enhance a woman's professional image and on what is a quality hosiery. She also runs 2 Youtube Channels Fantasystockings & Fantasystockings2 If you want to know more, head on down to
http://fantasystockings.com
! Support Jessica but clicking on the ad's that appear in her blog!

On a personal note, Jessica has been a great encouragement to me and it really pushes this blog forward!

Thanks for reading!
Andreas Lucius Loh